Reliable, natural looking dental implants in Berkshire
Teeth are an essential part of your body and can affect your bite, speech and eating choices. If you lose one or several teeth due to injury or decay, you need to replace them as soon as possible, because, without them you increase the chances of damaging or losing your remaining healthy teeth. Missing teeth can also cause tooth misalignment, jaw damage and chronic headaches, not to mention an increased risk for tooth decay and gum disease.
At Old Windsor in Berkshire, we recommend dental implants and implant-supported restorations for permanent and long-lasting results. Since dental implants fuse into your jawbone, they act just like your natural teeth, safeguarding and preserving your bone structure, oral health and appearance. During your consultation appointment, you will be provided with all the options available in order to make the most informed tooth replacement decision possible.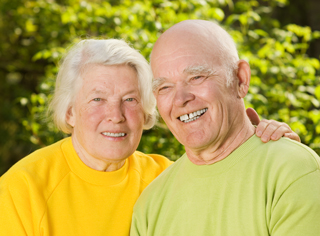 Understanding dental implants
Dental implants are the closest possible alternative to actual tooth replacement. These small, titanium posts are surgically fixed into the jawbone and act as replacement roots for your missing teeth. Once healed, they are mounted with replacement teeth in the form of crowns, dentures or bridges.
For most patients, dental implant placement is completed in two surgical procedures. First, implants are placed within your jawbone. After they have fused to the bone, the second phase begins. Your dentist will uncover the implants and attach the replacement teeth. The entire procedure usually takes two to eight months but in some cases, patients can have dental implants from root to crown within a day.
Benefits of dental implants
Because dental implants feel and look just like natural teeth, they are very beneficial for your self-esteem. However, beyond appearance, dental implants fully restore your ability to eat, speak and chew without having to worry about loose dentures. Dental implants also benefit general oral health since they do not have to be attached to other teeth, like conventional bridges.
Visit our dentist for dental implants
The first step towards a beautiful, healthy smile is to schedule an appointment with one of our friendly dentists, who will be able to evaluate whether dental implants are right for you. Please contact our office by phone or visit our website for more information on dental implants in Berkshire.