Invisible braces for visible smiles: Invisalign in Berkshire
When it comes to teeth straightening, some adults can be very self-conscious about the decision to undergo treatment, and can be worried that they are starting too late or that their smile will look unattractive and unprofessional.
Luckily, modern dentistry has come a long way and teeth straightening for adults has expanded significantly. You can now take advantage of many discreet teeth straightening treatments that will help you align your teeth and correct your bite without anyone noticing. At Old Windsor in Berkshire, we offer Invisalign invisible braces to make you feel confident about your smile, even during treatment.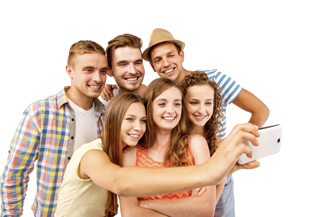 Tell me more about Invisalign
Invisalign consists of clear, removable, custom-made, plastic aligners. Unlike metal braces, Invisalign uses a series of these aligners to help move your teeth. With the aid of a 3D animation, you will be able to see each step of the treatment.
Invisalign aligners should be taken out for eating, drinking, brushing and flossing, but should be worn least 22 hours per day for effective treatment. Treatment with Invisalign does not require frequent visits to the dentist. You will only need to visit your dentist every six weeks or so to check that your teeth are getting straightened as planned. Your aligners should be replaced with the next one in the series every two weeks on average. The overall course of treatment rarely exceeds 24 months, though most people have their teeth straightened within a year.
Advantages of Invisalign invisible braces
Invisalign aligners are transparent, therefore, most people won't even notice them. Perhaps more importantly, they are removable, so you can still enjoy your favourite foods and clean your teeth as you would do normally. Finally, Invisalign aligners are very comfortable since they are made of smooth plastic that doesn't cause any irritation to your teeth and gums.
Am I eligible for Invisalign?
Invisalign appeals to many patients since it works very well to treat mild teeth straightening cases. If you are an adult and you have the discipline to wear your aligners for 20-22 hours a day, then you are probably a good candidate for Invisalign.