Regaining dental confidence
Missing teeth affect your life in several ways. The cosmetic difference is the most obvious: gaps in the smile are easy to see. The teeth that remain have to work harder, and there's an increased risk of injuring them. As the years go on, missing teeth can lead to deterioration in the jawbone.
In Windsor, dental implants are a long-term solution to these problems. At the Old Windsor Dental Practice, we have plenty of experience in providing this treatment for all kinds of tooth loss. Whether you're missing a single tooth from a sporting injury, or a whole set for more complex reasons, we have the skills and experience to fully restore your dental function.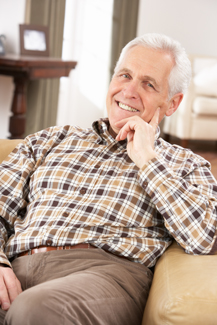 Receiving dental implants in Windsor
Your treatment begins with a conversation at our contemporary dental practice. The friendly team will discuss your dental health history, and come up with a meticulous plan to replace your missing teeth. It's important that you have sufficient bone density and good enough oral health to receive the implants. We might need to do a bit of preliminary work to get you ready.
Then comes the minor surgical procedure, in which our dentist will place small metal posts into your jawbone. Following a short period of healing, you'll come back to the practice to have your new teeth securely affixed to the posts.
Oral health advantages
Once you've received your Windsor dental implants, you'll be able to enjoy their many benefits:
There's no need to use messy adhesives to keep them in place, and they're easy to keep clean;
Because the jawbone forms a strong bond with the implanted posts, the new teeth function like natural ones. You can enjoy your meals without having to cautiously opt for soft or mushy foods;
Speech can feel more fluent, because the stability of the new teeth can make certain words easier to pronounce;
You'll maintain a healthy facial bone structure, without developing the sunken look that sometimes comes to the long-term wearer of removable dentures.
If properly cared for, Windsor dental implants can last for decades. They can have a long-lasting positive effect on your overall quality of life.