Discretion is the key with invisible braces
You are probably so used to seeing adolescents with braces on their teeth that although you may register them, you don't feel the need to comment on them. It's just another kid with braces on. However, put those braces onto someone like yourself, a working adult in business clothes, and it's a whole different story.
It's just another person getting straighter teeth in Berkshire, but it's not normal to see adults in braces. It's hard not to react with stares and personal questions. It's embarrassing for the poor person in the braces (especially if it's you) and that may well be why you have not yet got around to doing something about your wonky teeth. But you can go for it now, thanks to invisible braces.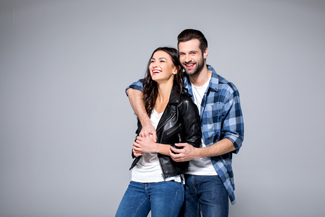 Over the last couple of decades, researchers have been working hard to come up with advanced materials and techniques to make braces less visible so that wearers can feel less self-conscious. At Old Windsor Dental Practice, we are doing brisk business in discreet teeth straightening.
One hugely popular way to straighten teeth uses invisible braces by a company called Invisalign. Their system is not even a variation on the traditional bracket and wires many people associate with braces. Instead it uses aligners, which are transparent thermoplastic resin trays, rather like mouth guards. These slide snugly over the teeth and are so thin that it is almost impossible to see them.
Invisalign aligners are a product of the digital age. They are 3D printed in a laboratory in the United States specifically for each patient, using detailed measurements collected digitally by their dentist. The dentist also uses this information to create a digital preview of the route the teeth will travel to reach their required alignment. Each aligner is designed slightly differently from the previous one, marking another step along the journey to straight smile heaven. The pressure from each slight move forward in tray design is what nudges the teeth along their trajectory.
Typically, you will wear each aligner for about 7 — 10 days before moving on to the next one. The numbers of aligners required varies according to your own particular issue.