Using dental implants to replace missing teeth
Dental implants are the only permanent way for your dentist to replace one or more of your natural teeth. At Old Windsor Dental Practice in Berkshire, our skilled implantology team can replace one, some, or even all of your missing teeth with the help of dental implants.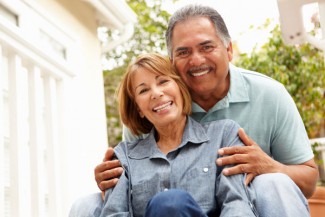 How it works
Missing teeth must always be replaced, in order to preserve your general and dental health, not to mention your self-confidence. Dental implants are the only way to replace the roots of the teeth, and as well as giving you back your beautiful smile they also restore full functionality to your jaw, and help to prevent bone resorbtion (shrinkage).
Dental implants are placed in direct contact with your jaw bone in a minor operation, carried out here at our Berkshire dental practice under local anaesthetic or conscious sedation, depending on your preference.
Sometimes, new teeth can be attached at the same time as your implants are placed, while in other occasions it is best to leave your implants to heal for a few months before permanent new teeth are attached to them.
Once adequate healing has taken place, your dentist can replace your missing teeth with crowns, a bridge, or dentures, which once attached to your dental implants will remain firmly in position, with no danger of them becoming loose or falling out unexpectedly.
For one missing tooth, your dentist will probably use a crown with a single dental implant. For several or all missing teeth, we may use an implant-retained bridge or denture, depending on your clinical need and your personal preference.
With proper care and regular follow-up appointments with your dentist and hygienist, your dental implants and the new teeth attached to them should last you for many years – perhaps even your whole life.