Is your smile missing something?
Are you missing one or more teeth? If you are, then you may be familiar with the experience of having difficulty eating or speaking, as well as a sinking feeling when you look in the mirror. Losing your teeth is not only inconvenient, it can also have a profound effect on your self-confidence. You may have considered dentures or crowns, but decided that they were uncomfortable or difficult to get used to. When you come to see us at Old Windsor Dental Practice for dental implants in Windsor, you will find that missing teeth no longer need be a long-term problem.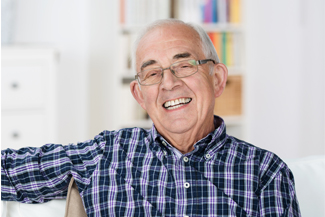 Dental implants can help
For our patients in Windsor, dental implants have offered a secure, permanent solution to the issues caused by losing your teeth. Implants are small metal screws that are placed into the jaw during a minor operation. As the jaw heals, the blood vessels and bone mesh around the metal, holding it firmly in place. When they are stable, the implants can be used as a base for dentures, crowns or bridges and anchor them to the gum in the same way as the root would for a natural tooth. They can be used to replace just one tooth or a whole set, so having dental implants in Windsor is a flexible option for everyone.
New techniques
We are proud to offer All-on-4 dental implants in Windsor and have seen how they can dramatically enhance the quality of life for our patients. This is a great new method where a whole arch of teeth can be fitted to just four dental implants in a day. Any existing teeth are removed, the implants are placed and high-quality fixed temporary teeth are fitted. After six months, during which the jaw heals, a durable, permanent bridge with a titanium framework is fitted. This avoids the problems of dentures or bridges that are insecure, poorly fitted or painful.
You can take the first step towards a brighter smile and a more enjoyable future when you get in touch with us today in Windsor. Dental implants could be the solution you have been looking for.