I want straighter teeth
A healthy, good-looking, natural smile is not just something for the lucky few, but something everyone can enjoy. Are you living your life with twisted or wonky teeth? Do you avoid a beaming smile on photos or shy away from the camera?
Well, it may seem like an impossible dream, but living your life with a straight smile is much more achievable than you might think. Advances in dentistry have meant everyone now has access to ways to straighten their teeth that will accommodate their lifestyle.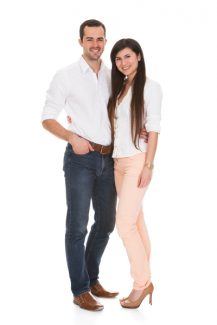 Fixed appliances
A fixed appliance is a dental appliance which can only be removed by a dentist. Dental appliances are used to move the teeth to correct situations in which the teeth are not aligned properly in the mouth.
A fixed dental appliance can sometimes be worn primarily for cosmetic reasons, to straighten teeth which look unsightly, or it may be important for medical reasons.
The classic example of a fixed appliance is metal braces, which consist of a set of brackets on the teeth connected with a wire known as an 'arch wire'. Metal braces work by putting force on the teeth to pull them into line, and may be worn for between one to three years. There are other types of fixed appliances which can be used as well, including options using tooth-coloured wires, for a less obvious teeth straightening process.
Dental appliances are prescribed and installed by an orthodontist. An orthodontist is a dental professional who specialises in correcting misaligned teeth. It is always a good idea to look thoroughly for a reputable orthodontist, such as those at Old Windsor in Berkshire.
Invisalign
If a subtler approach is required for straighter teeth, then Invisalign could be a good alternative option to traditional fixed appliances. Rather than employing wires and brackets, Invisalign uses aligners. These aligners push your teeth into their desired location.
Aligners are both clear and removable, as well as making it easier to keep a good level of oral hygiene. Invisalign is designed to tackle less serious teeth straightening needs, such as correcting the teeth seen when you smile, known as the 'social six'.