Straighter teeth with braces in Windsor
Posted On

:30th August 2018

Under

: Braces
We would love to help you improve your smile and resolve those crooked teeth. Using braces in Windsor we offer effective, long-term solutions to straighten your teeth. Teeth straightening has advanced over many decades and nowadays treatment with braces is a lot faster and more comfortable than it used to be. If you have problems with the way your top and bottom teeth line up or otherwise misaligned teeth, we can help you achieve a more confident smile with braces in Windsor.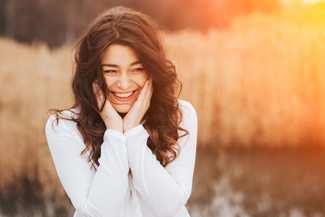 Modern invisible braces
Here at Old Windsor Dental practice, we are proud to offer our patients Invisalign. This modern teeth straightening treatment is a great alternative to fixed braces. Invisalign uses clear plastic aligner trays which are virtually invisible. Invisalign is popular with adults who prefer not to wear more obvious fixed brace options for months on end. The removable aligners are easy to use and maintain. They fit around your lifestyle effortlessly. Created using 3D computer imaging, Invisalign aligners fit over your teeth, moving and straightening them gradually. The average treatment time for this system, which can resolve mild to moderate alignment issues, is one year.
What are the life benefits of teeth straightening?
Oral health
Straighter teeth are healthier than crooked teeth. This is because straight teeth are easier to keep clean. Often people with alignment issues find that they have hard-to-reach areas between their teeth. These areas are prone to plaque build-up and that lays a path for tooth decay and gum disease to take hold. Having your teeth straightened ensures there will be fewer areas that are difficult to clean in your mouth, which means improved oral health.
Social aspects
It's amazing what a difference feeling confident about your smile can have on your life and state of mind. People who have crooked teeth often hide their smile, in extreme cases it can make people become less sociable. Sometimes the subconscious effects of not liking your smile can be detrimental to your self-esteem. Having a smile you can feel confident about could make all the difference to your social and professional life.
So straighten your teeth with braces in Windsor and enjoy a healthier smile for years to come.