Missing teeth? What about dental implants?
If you have started to lose your teeth, you may be a bit frightened and you may also want to find a way to replace them that isn't the same way your granny had to use.
Fortunately, although you can still have dentures, and they have improved over the years with new methods of manufacture and materials, there is a more modern way. It's called dental implants and it takes replacing missing teeth to a whole new level of effectiveness.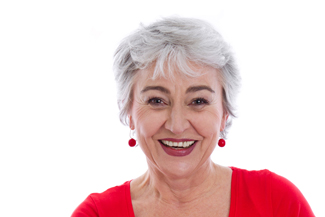 Dental implants: the game changer
The big thing with replacement teeth is that they need to look as good and work as well as natural teeth. Well, all replacement teeth can look good these days because the dental porcelain used to create them can be coloured, shaped and sized to look just like real teeth.
Whether they work as well is a whole other matter. Teeth depend on being rock solid for good chewing. Teeth that wobble can't be relied on to chew well or behave in conversation.
Dental implants are the only replacement method that anchors the crown into the jaw. The implants are tiny posts or screws that we insert into artificial sockets that we carefully create in the jaw. The bone fuses with the posts, which are made of biocompatible titanium, growing new tissue all over them. It takes a few months, but once the bone and implant have fused, the replacement teeth can take on almost anything (although don't try and open bottles with them, that would be silly).
Dental implants can hold up to 3 teeth on a bridge, and you can have an entire arch of teeth replaced with just 4-6 implants.
Who can have dental implants?
In theory, anyone over the age of 18, when the jaw stops growing, can have dental implants fitted. So, they are a great replacement method for people who have had their front teeth knocked out in accidents or during sports.
The only barrier to dental implants is a jaw that has deteriorated through lack of use. Also, if you are a smoker or have uncontrolled diabetes, your implants may not integrate, so we like you to sort out your condition before we treat you.